Hello,
I have a weird problem. Windows 10 Antivirus (Microsoft) is detecting Expresii as a threat and I cant use it at all. I cant even download it without it erasing the app before even executing. Can somebody help me with this?

Regards,
FJGC
Hi FJGC

Yes I got this warning if its the same one I think it is. I just pressed more info in the window to override it so the app would install. It is of concern that this is happening and only seemed to happen with the latest version which is 2017.07.24 and as it happens this version did not work well for me so I had to revert to a previous version.

Cheers

G

Mackarel




Posts

: 3


Join date

: 2017-07-26



I wanted to report this (relaying user's report) to Microsoft, but when I went to there page (https://www.microsoft.com/en-us/wdsi/filesubmission) I need their virus definition version in order to fill in that form. I asked that user to update the virus definition first, and give me that definition version. However, he than said Expresii was no longer detected as malware.

So, you can either help me by submitting a false positive to MS as a home user, or if you can give me your Windows version, Defender virus definition version, and Detection name (i.e. what threat they detected), I can submit the report to them.

Thank you and sorry for the inconvenience.
Okay, I've submitted a report to MS, as even my Surface Pro 4 detects x.exe as Trojan:Win32/Fuery.B!cl. Hopefully they get it rectified soon.
So, after a few days of submission to MS's 'Windows Defender Security Intelligence' site, our installer as well as our main executable x.exe are determined as 'Not Malware':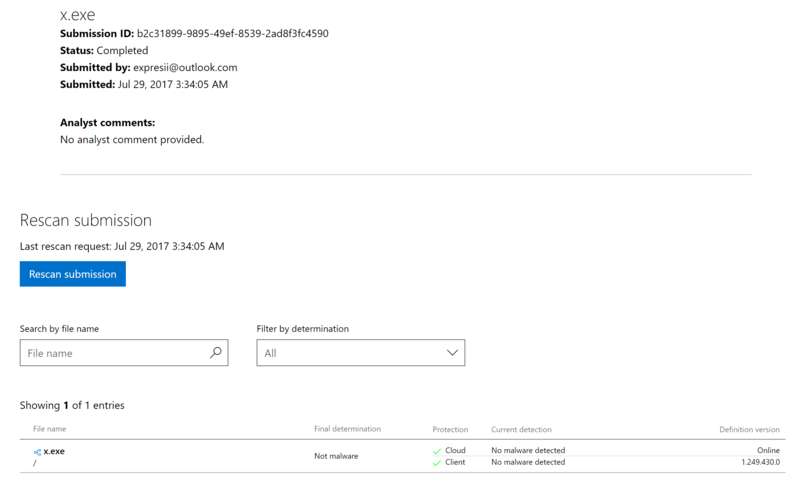 Hopefully they get their virus definition updated soon so that we're not bothered by it any more!
hey thanks! I'll check this out ASAP to see if it the issue is gone.
Confirm it works now

Thanks for the help ADMIN!
For the record, now I don't need to put an exception to our Expresii folder in Windows Defender and Defender is not longer complaining. I did update my virus definition but I just wasn't sure exactly which update fixed the false positive.

My current definition is 1.249.918.0.

Similar topics
---
Permissions in this forum:
You
can
reply to topics in this forum