Thanks to report from user Charlie Tsoi, we realized that we will run into GPU error when users repeatedly use Wacom Express key to undo/redo in Expresii on a machine with AMD Radeon RX580 GPU:

Further undo operation would render Expresii unusable with canvas all messed up.  
With further investigation, we found that error is trigger when undo'ing (via Wacom Express Key) only with a combination of these:
1. Newer AMD GPU (verified with RX580 and Vega 11)
2. Wacom 'Express View' overlay appearing
Note that such error won't happen if we use an nvidia card, or even an older AMD Radeon 7730 card.  Latest Wacom driver WacomTablet_6.3.33-3 or older 6.3.15-3 (latest that supports intuos 3) are the same as far as this error is concerned.
We installed the latest Radeon driver and also updated Expresii (now at 2019-05-12) and now we get this "operation aborted" error coming from GPU operation:
We realized that if you uncheck 'Show Express View', such error won't happen: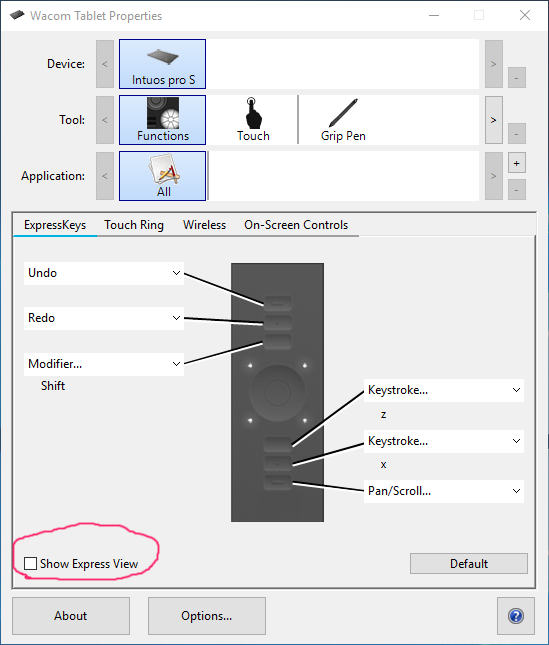 So, it looks like Wacom's Express View overlay interfered some GPU operation on newer AMD cards.
Last edited by Admin on Sun 23 Jun 2019, 10:47 am; edited 2 times in total
Gave feedback to Wacom support (via Developer Support hopefully they can channel the issue to their driver team more easily than Customer Support)

---
Permissions in this forum:
You
can
reply to topics in this forum