Many of you reported the UI would switch to non-English e.g. after you update Expresii. This is a bug that I still can't reproduce with reliable steps so it's a bit hard to fix. Anyway, to fix it on your own, there're two ways. As described in here
http://www.expresii.com/documentation.html#language
you can navigate to this box to select the language: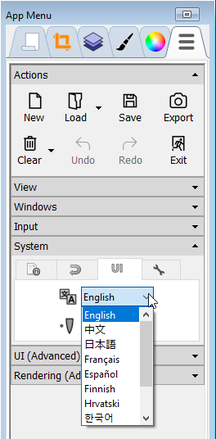 or, do a Factory Reset: after the reset, Expresii would ask for the language to use, just like on the first run.
Once again, sorry for the inconvenience.
Last edited by Admin on Tue 08 Oct 2019, 10:59 pm; edited 1 time in total
Recently I also experience such a bug: update Expresii via its own Update button and after the update procedure the next time Expresii fires up, two things: 1. size of main window and setting window is shrunk to like less than a quarter of the screen and both tuck at the top-left corner of the screen. 2. language got reset to Chinese. I suspect it's the system settings INI files not being flushed completely as Expresii quits for the update. Will work on it and hopefully this would be fixed in a couple of more update releases.
Similar topics
---
Permissions in this forum:
You
can
reply to topics in this forum