You have a great program. But it falls and spoils the file. A 10-15 minutes from the start of work, a brush hangs. If you save your changes the next time you open the file, it's just an empty black background file. How can this be fixed?
Thanks a little more for the consultation!
Sincerely.

YAZZIK




Posts

: 3


Join date

: 2020-12-14



I'm sorry for this behavior. May I know the hardware configuration you have?  Mainly I'd like to know your CPU and GPU, so as to rule out it's due to weak hardware/graphics driver. We use OpenGL to do the graphics stuffs, and some older Intel GPU or its driver may have difficulty handling the situation.
There's auto-save feature that by default would save your work every 15 minutes. You can open the auto-save folder with these steps: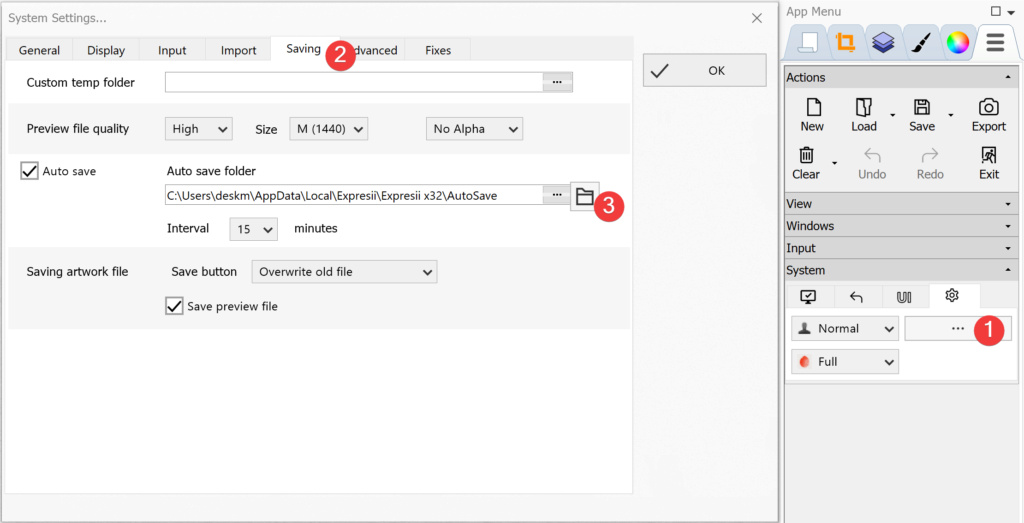 and see if you can get back a useful auto-saved file.
if auto-save manages to work when the brush is hung, the program damage the file.
I can only exit the program when the brush hangs and open the file without saving the latest actions

YAZZIK




Posts

: 3


Join date

: 2020-12-14



Intel core i7-7700HQ CPU 2.8o GHz
16.0 GB
x64

could be a problem with WAcom?

YAZZIK




Posts

: 3


Join date

: 2020-12-14



Sorry to hear that the auto-save didn't catch useful bits for you.
Wacom wouldn't be a problem.  But if you only have the integrated GPU from Intel, that GPU / driver may be a problem. Check your driver number and see if you can update your driver. I have a system with an UHD620 iGPU (from CPU i7-8650U), at GPU driver version 26.20.100.7639, and things have been fine for me. You can check the system config from within Expresii's System Info window:
http://www.expresii.com/support.html
If the laptop has dual graphics cards, please refer to my document in the Chinese section of the forum.

Intel tries its best to use the non-DCH version provided by notebook manufacturers to be more stable.

cmhdream




Posts

: 20


Join date

: 2018-01-26



---
Permissions in this forum:
You
can
reply to topics in this forum