Hi, I was doing some more testing and liked how the external ref image can be moved off the canvas area and could use live update to keep it updated with references from another program.
I noticed 2 issues with it,
1) The colours become darkened in comparison to the overlay version and source image
2) Not able to colour pick from external, this would be good as could have naturalistic palettes/references to the side and pick from them without obscuring the work area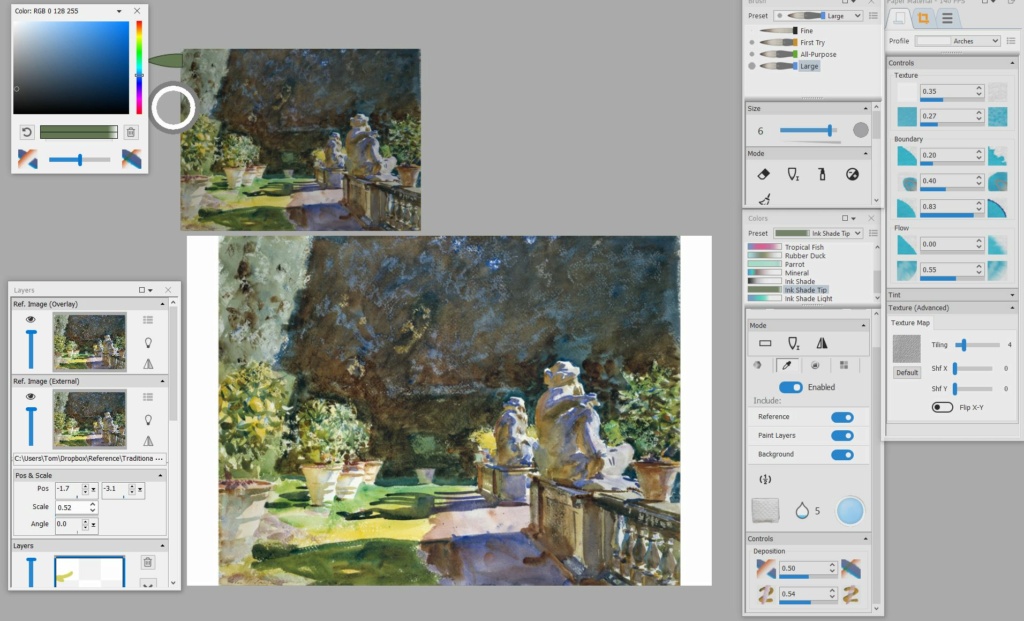 teng1




Posts

: 8


Join date

: 2021-02-02




teng1




Posts

: 8


Join date

: 2021-02-02



Thanks a new way of using the external reference! I added that external reference just for an animation studio where they need to put a large background image. I'll put the option to sample from the external reference to my do-to list. For the mean time, you can always store colors in 'pan sets'. You need to switch to Advanced User Mode to get that. See a picture showing you how:
https://twitter.com/ExpresiiPaint/status/1356989670467411971/photo/1
For the darker-than-sampled question, it's due to the 'granulation' from the paper material settings (2nd slider under 'Texture'). It mimics the paint pigments become more concentrated at pores of the paper.
I think if you set that to zero, you should get the exact color you want.
Thanks, that's interesting I noticed the "lightbox" settings which remind of animators too! I went through each of the paper settings but they didn't seem to affect the image brightness, still stays dimmed. The pansets look useful and can copy paste schemes into them.

Thanks for looking into it.


teng1




Posts

: 8


Join date

: 2021-02-02



It's this "granulation" (you can hover on the slider to see a tool tip for what that thing is):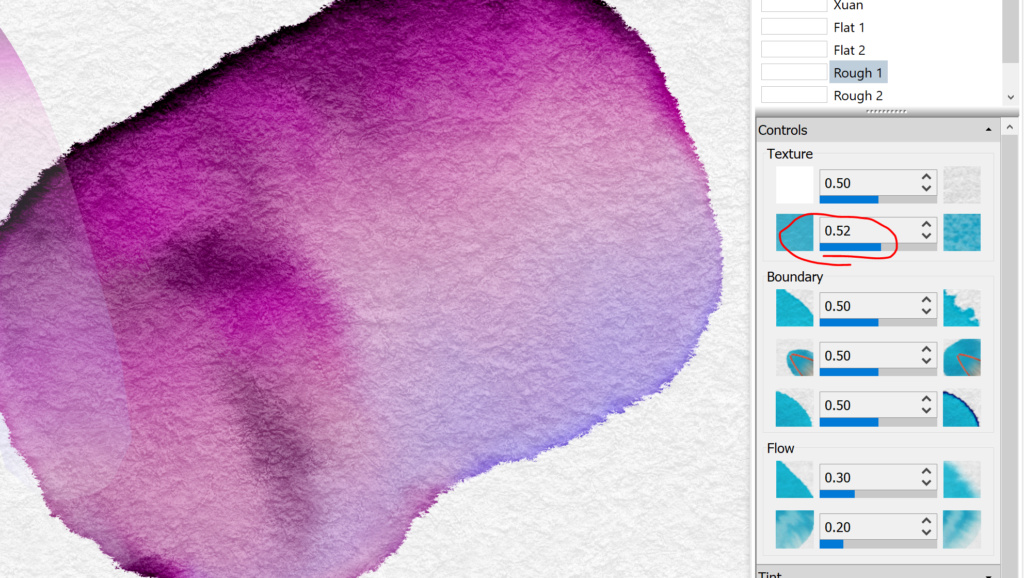 Just tested and it still gives me darker shades.
Personally I like having some 'granulation', as it gives the colors more punch.
Given your feedback, I start to think maybe I should move this control to the color tab instead of the paper material, as I believe users tend to look at the color tab for any color-related matter.  However, this 'granulation' is a global (i.e. across the whole page) setting instead of transient as per color-loading, so users may also question me why if such a control in the color tab would affect what is already laid down.  
Hi Nelson,
I agree granulation is a beautiful property of watercolours and changes based on pigment used, I think, if simulated per pigment it would be logical to add it to the colour area, if its a global mode then I think paper settings is the right place for it.
So all you need to do now is simulate pigment dropping out of solution and building up in the depressions in the paper
while you are at it can simulate the migration of pigment particles into other wet areas and granulating
Thank you for your great works

teng1




Posts

: 8


Join date

: 2021-02-02



---
Permissions in this forum:
You
can
reply to topics in this forum