Hi Nelson,

There is no doubt that Expresii is the best in class in terms of CFD programs. Other programs that use simulation techniques like Adobe Fresco, Corel Painter, and Rebelle 4 do not even compare.

Despite Expresii being Windows-only, there are ways to get it to run on a variety of devices and operating systems: via a Parallels on Mac (a virtual machine), via EasyCanvas on Android devices (screen mirroring a Windows PC), etc. But, all of these solutions have their downsides: general sluggishness, input lag, and more.

Considering that Expresii uses OpenGL and C++, what it getting in the way of making Expresii a cross-platform solution?

At the very least, I think it would be worthwhile to provide a build that is compatible with Wine and Crossover. This solution has not really been addressed (compared to other alternatives like virtual machines and screen-mirroring apps) on the Expresii blog or Facebook page. But, it has some of the greatest benefits: Wine is not a virtual machine, so it does not have VM overhead.

Allowing Expresii to work via Wine would allow the program to run on Mac and Linux without the major performance hit that comes with virtual machines. Additionally, through Wine, Expresii would not need a major re-write (which would be the case for a native Mac app).

Unofficially, other major programs already work via Wine: Photoshop, AAA games, and more. (See a screenshot of Photoshop working via Wine/Crossover on Ubuntu Linux on my computer below.)

PLEASE CONSIDER A WINE BUILD.

colton




Posts

: 9


Join date

: 2021-02-26



Thanks for your message.
The main obstacle was the graphics library that I use. It's based on OpenGL, and I don't want to rewrite that library. The second largest obstacle is the UI framework.
Some good news is: a tool that is supposed to allow that library (and also the UI framework) to be used for Mac / Linux is just updated to really allow that to happen. Bad news is I encountered issue installing it. I'll keep trying to get this dev tool working.
I actually tried installing Linux and Wine after I saw your message, but wow... the Wine installation process was well, not smooth. I, as someone who used DOS and Unix before, find it just too troublesome. I gave up already.
I don't think many of my users would be installing Linux and Wine themselves.
So, hopefully I can get a Mac version at some point. I hope by that time, Apple is not removing OpenGL altogether, and my Mac build actually runs on their new ARM based processor.
Thank you for your reply.
Regarding the framework for OpenGL and UI framework you use for Expresii, I definitely believe the UI framework is causing problems with Expresii running through Wine (via Crossover). Check out my screenshot below showing Expresii installed via Crossover: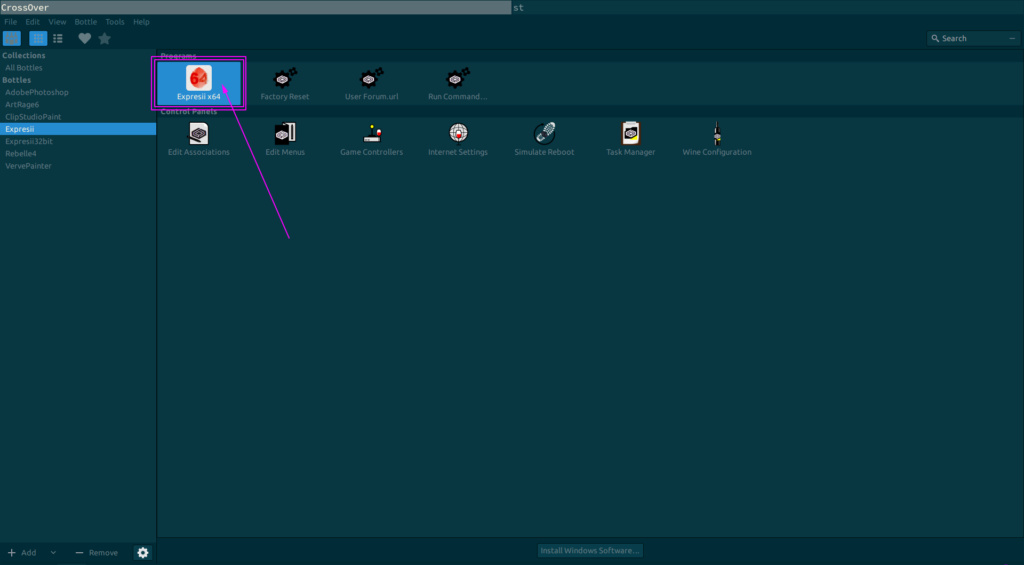 When I attempt to run Expresii via Wine/Crossover, Expresii installs properly, but the X.exe fails to create a window due to *presumably* an OpenGL error.  I tried to troubleshoot this for the
64-bit
version; but, the X.exe fails without even so much as an error logged to Wine/Crossover--making this issue very hard to troubleshoot.
When I attempt the run the
32-bit
version, I do get a generated error report. But, I am not sure if this error is a bug with Expresii in this environment (i.e. Wine/Crossover), or it is a bug with the implementation of 32-bit OpenGL in Wine/Crossover (considering the 64-bit version of Expresii and 64-bit version of OpenGL do not cause an error report to be generated). See these screenshot: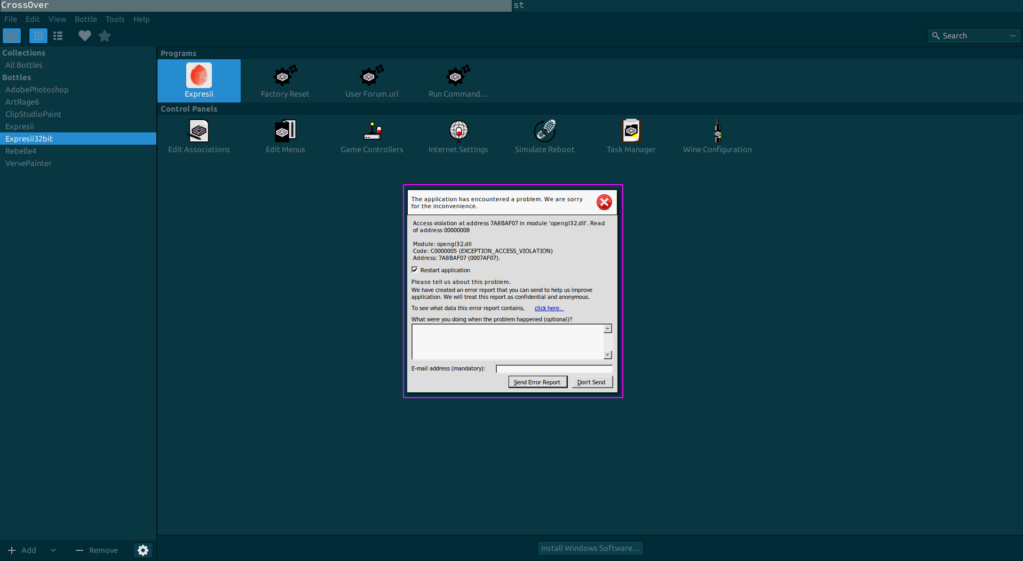 Long story short, I do not know what the issue is. But, I want to help you troubleshoot it!
Regarding the difficulties you had installing Wine, I actually recommend the Crossover project instead. It is much, much more user-friendly. And, the team at CodeWeavers (the company behind Crossover) makes the most contributions to the Wine project. Other large companies such as Steam also also getting into the Linux market through projects like Proton which use Wine under the hood.
I am sorry you had issues, but please give it a second chance: I still believe this solution will prevent you from having to rewrite code. I will even purchase your Crossover license for you.
As you can tell, I really, really want to see Expresii work on Linux / Mac.
Lastly, you are right: many of Expresii's users wouldn't be installing Linux and Wine themselves. But, I promise that support via Wine/Crossover would have a net-positive impact on Expresii's community. Linux users aren't numerous, but they will be your biggest fans.
To restate: I want to help you troubleshoot this. Do you mind sharing the name of the UI framework you use? Also, do you mind sharing the dev tool that you are having trouble using for the Mac and Linux support?

I am a developer as well; just not a Windows developer. But, I have been using Linux professionally for years. I feel like Expressi is so close to a Linux build! Please give Wine/Crossover a second chance.
Would you like to schedule a time to chat? I could help you get Crossover running properly.

Last edited by colton on Thu 04 Mar 2021, 2:14 am; edited 1 time in total (Reason for editing : Minor spelling and grammar corrections.)

colton




Posts

: 9


Join date

: 2021-02-26



Thank you for your enthusiasm!  
Okay, I have Wine installed finally. Good that I get OpenGL 4.6 support on Wine (using my own System Checker - it runs fine but gives error on exit):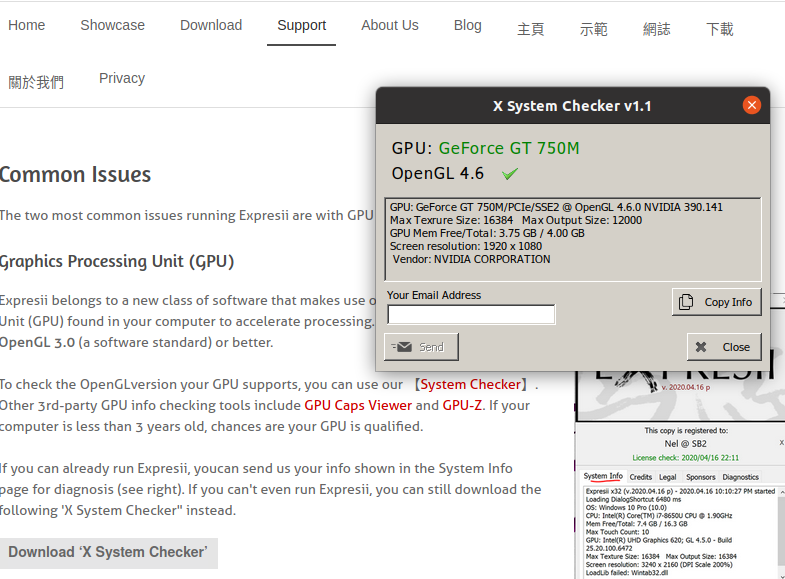 but seems Wine 6.0 still has bugs in OpenGL, as you can see below.  
The graphics lib I use is GLScene (https://sourceforge.net/projects/glscene). The UI framework is VCL of Delphi. You can get the free community version (https://www.embarcadero.com/products/delphi/starter/free-download) to try compile and run some GLScene samples. I run some and all that I ran gave error from opengl32.dll on exit. E.g. this RenderToTexture sample's way of rendering is important for Expresii to work - glad it runs fine: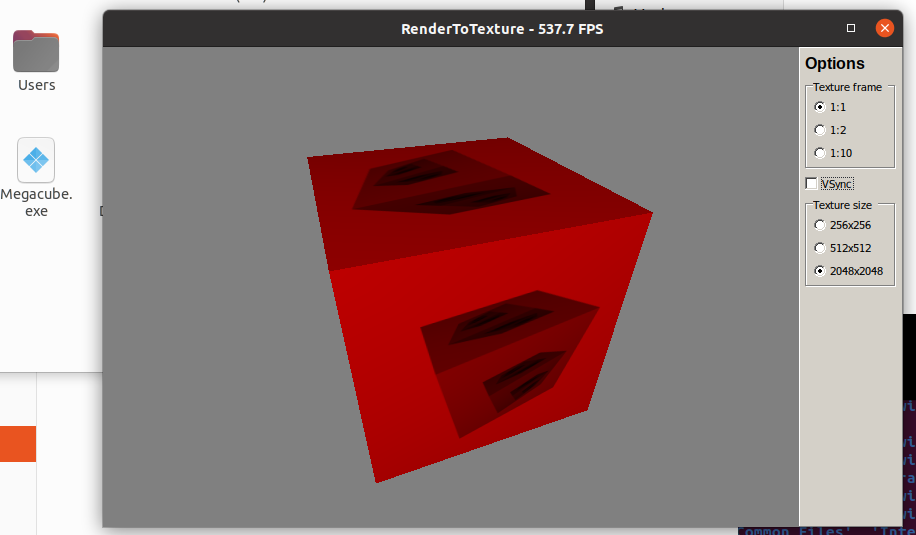 although it gives error on exit:
And seems Wine OpenGL implementation still has some bug with GLSL shader too, as e.g. the ShaderLab sample of GLscene gives this error on program start: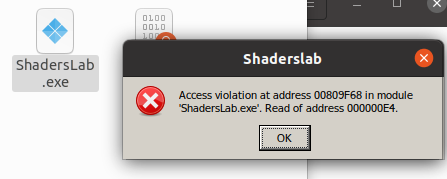 And shaders are also important for Expresii to work.  FYI, I do get the same error report as you posted running Expresii.
The dev tool I mentioned is CrossVCL. I have some good progress getting it to work today, although now I'm stuck at an error that I don't know how to fix yet.
Hi Nelson,
Thank you for the detailed response. I am going to follow your steps to run the 'sample' programs on Wine; I am going to try to get them running without errors--but, no promises. You may be right: Wine's implementation of OpenGL may have its flaws.
Thank you. Purchasing Expresii today after my trial license expired!
Colton

colton




Posts

: 9


Join date

: 2021-02-26



Thank you very much for your enthusiasm and support, Colton!
Similar topics
---
Permissions in this forum:
You
can
reply to topics in this forum