I would like for each stroke to darken the paint similar to how a brush in photoshop or rebel would work. ATM each stroke I create applies the same shade of paint even if the paint is already dried. Is there a setting I am missing? I know we can kind of do this by using multiple layers but that is very awkward and counter intuitive to use.

Kindly,

Vigilence

Vigilence




Posts

: 2


Join date

: 2020-04-13



Hi Vigilence,
Thanks for your message. I'm actually working on the ability to accumulate paint on the same layer, like as previewed in this video (towards the end):
http://www.expresii.com/blog/hello-spring-2021-year-of-the-ox
I just uploaded version 2021-03-18 and you can get this beta version by choosing Server 2 in the Update button and then Update: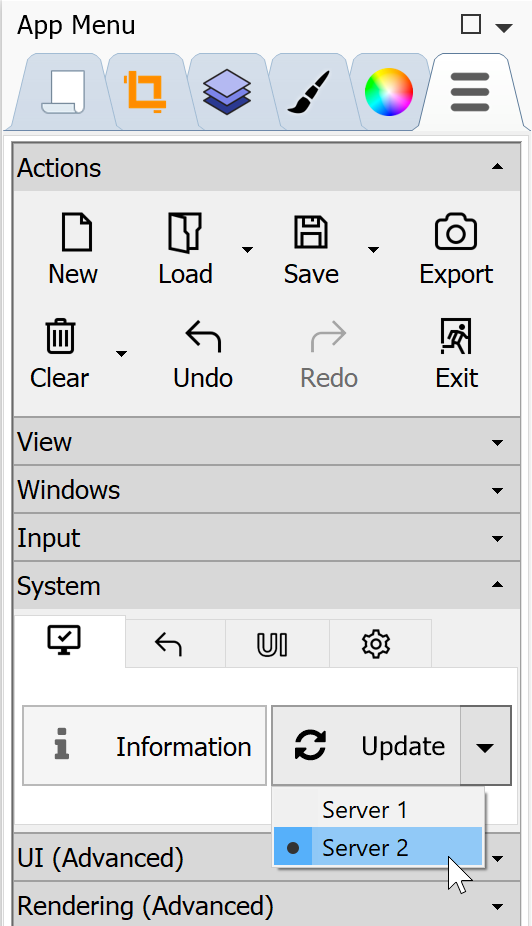 I call this new function "Settled Paint". In this new version, you can press Shift-V to settle the paint. After that paint is settled, you can lay new paint on the same layer and that would darken what's settled.  
Note that the Layer Merge function with this new settled paint is not working yet.
BTW, you can also use hotkeys ',' '.' to adjust the current loading's lightness if you want a darker or lighter shade.
Last edited by Admin on Fri 19 Mar 2021, 8:09 am; edited 3 times in total
Vigilence likes this post
Wow that is great to hear!

Thank you!

Kindly,

Vigilence

Vigilence




Posts

: 2


Join date

: 2020-04-13



@admin
Hey Nelson,
Love the 'color darkening' update! However, with this new update, you also released the 'Color Space' feature which still appears to have some bugs. Specifically, the colors selected in the color picker do not match the actual paint put down onto the canvas.
For example, here is a screenshot of me using the brown/sepia colors in the color picker, but the 'actual' color comes out black:
Also as a side note, how is the 'Suminagashi' update coming along? I love how Shuen Leung's art looks in your blog post:
http://www.expresii.com/blog/2020-conclusion-and-looking-forward
Maybe you can bless me with a developer build so I can test it?

colton




Posts

: 9


Join date

: 2021-02-26



The 'Color Space' thing is actually not meant for public yet, and now I've fixed the hiding of the UI so it won't show in today's update.
The suminagashi thing still needs some work. Currently, it doesn't save the artwork correctly so better not to let any more user have it just yet, as if they made something nice and not being able to save it correctly is disappointing.
---
Permissions in this forum:
You
can
reply to topics in this forum