Hi, I can't seem to add more colors in pan/swatches. New pan set are consist of only 6 pans with no ways to add more, I did clicked 'Pan Count' >> '64' but nothing happened. The only way to get more pans is to click 'Randomize' in 'Edit Pan Set', but then again you can only get no more than 16 pans. Is there any options that I've missed?
With only 16 pans per set, i made few swatches and saved it. But now it all turned black when I load it. Please help
By the way I'm using the latest updated app with full license

busman




Posts

: 2


Join date

: 2021-06-24



Hi Busman,

Thanks for your report. ​I'm sorry that the 'Pan Count' should have been labeled as 'Max Pan Count'. I'll update the name in the next release. Right now, you need to pick a color via EyeDropper in order to actually increase the number of pans there.
I should probably add an option so that you can just add one slot in the pan set.

Regarding, the pans getting black after saving, I was able to get them saved and loaded correctly.
My steps were:
1. Make a new preset. The Edit Pan Set dialog appears.
2. Edit those 6 pans that appears as black by default.
3. Hit 'Save' button in the dialog
4. The 'Preset' combo box's thumbnail currently appeared as black, but it was just a UI refresh issue. If I move my mouse cursor over it, the colors is refresh correctly. The pans themselves are displaced correctly all the way.
5. I restart the app, and the pan set I just created was loaded back correctly.

Could you please show me your steps to reproduce the issue of having the pans turned black? Thank you.
I didn't realized that I can add more pans using EyeDropper tool! Thank you
For pans preset that turned black after loading, I did exactly as your steps. But when I hover the cursor I can only see their color values which are all zeros 0. I did try to refresh UI, factory reset the app, I even restart my laptop and wifi (I don't know if it has anything to do with this but why not
), and now at least there is 1 preset that loads perfectly. Other color preset are all still black with 0 values and reduced to 6 pans, just like a brand new one, only the label is correct (my file name)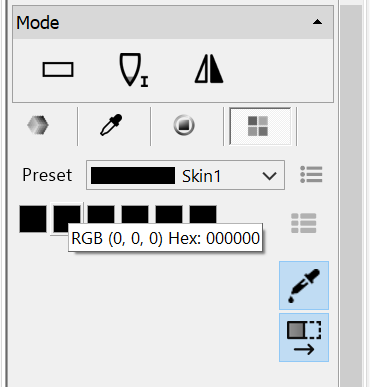 busman




Posts

: 2


Join date

: 2021-06-24



hm... that's strange. Usually, a Factory Reset should do the trick to get things back to working. I myself can successfully get a new preset:
Did you do an app factory reset via the Start Menu? If so, you need to make sure Expresii is closed before doing so. There's also a [Whole Set>Factory Reset] option for the Preset itself. I just tried it and it did reset the pan set presets for me correctly.
I'm sorry, but I'm not sure why it doesn't work for you right now.
---
Permissions in this forum:
You
can
reply to topics in this forum