It's partially my lack of skill and practice but I have a hard time ramping pressure smoothly in and out and getting a classic "bamboo leaf" shape. It seems like the width will suddenly change rapidly to a new size even when I try to be gradual.

jfrancis




Posts

: 6


Join date

: 2016-08-31



You can try using the 'Fine' brush preset, and hold it vertically for gradual tapering strokes. Admittedly, since Expresii is using pressure to control the height of the brush above paper (rather than a direct control of width like in other paint apps), and that today's stylus tip has only 1 or 2mm travel, it's a bit hard.

On slow machines, I have to slow down my stroke in order to get a nice tapering. But since you have a 1080, the FPS should be close to 200 FPS so it should be no problem.
Not sure if this would undo the serendipity and organic feeling but it might be interesting to be able to undo and have Expresii repeat a stroke with a preselected pressure profile (ease in, ease out, or both) or smoothed cursor path.

jfrancis




Posts

: 6


Join date

: 2016-08-31



Using my intuos 3, I was able to do sth like this: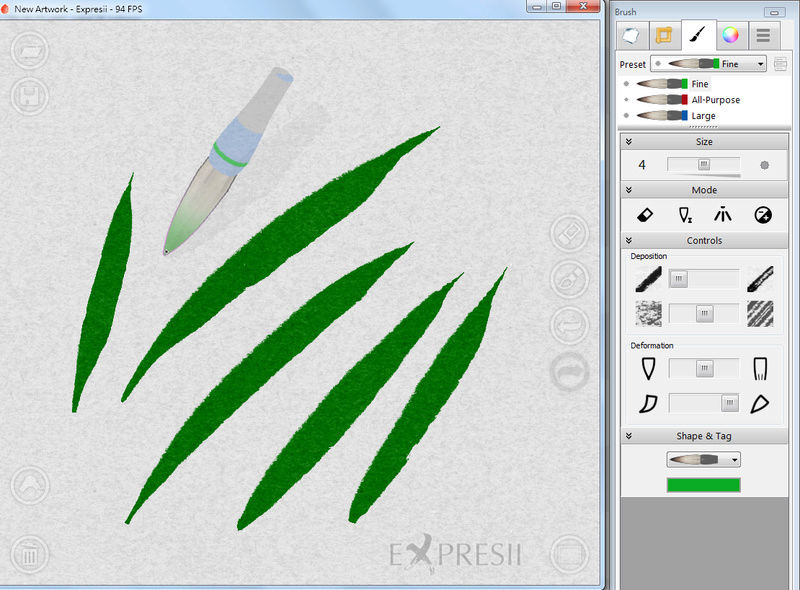 Like ink painting instructor Ning Yeh says, think 'airplane landing and taking off' when you do those bamboo leave type of stokes.

It's a nice idea to be able to apply recorded pressure profiles. There're just too many things to be added - I guess more layers is what most wanted. There're also constant request for a Mac version. So, pressure profiles may come later.


---
Permissions in this forum:
You
can
reply to topics in this forum