Hi,
I find it extremely difficult, if not impossible to create a dry brush on damp paper effect. For example, here is a picture of what I want to achieve (I did this with real paper and ink):
When I tried to do this with expresii, I run into the problem that look like this: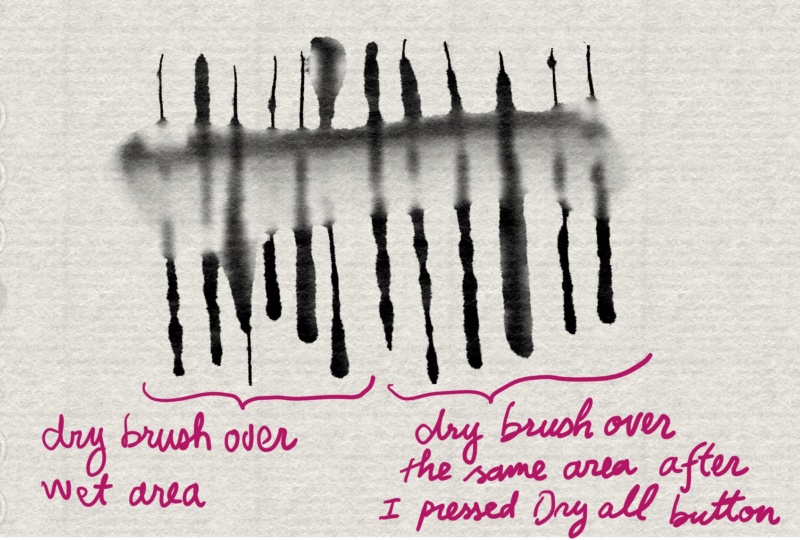 As you can see, the subsequent strokes over the wet area get faded significantly. And many many time, the stroke just disappear when it runs over the wet area. This is not believable at all. I have tried to dry the layer but this does not change anything. Did I miss anything?

chuong




Posts

: 4


Join date

: 2019-12-20



Thanks for your feedback.
1. It fades because current implementation still depends on resolution. If you make the line a bit thicker (or wetter), it would be more visible:
I plan to improve the technology behind Expresii so that we would allow more detailed work to be made.
2. The Dry All button only removes all moisture from the layer and the effect is that any paint flow would freeze. Once wet, that part is marked as 'wetted' forever. Subsequent strokes on top of it would reactivate it as being wet. I know it's not as expected by most people, but that's a limitation of the technology right now. For making a layer completely not affected by new strokes, please use another layer.  
In reality, once a mark is completely dried, newer strokes won't affect what is already dried on the paper, but then the flow patterns could not be changed too. In current Expresii, you can take it as being able to go back to the wet state, and still modify the flow patterns. This way, we can achieve both so it's more flexible. The bad thing about this is you may run out of layers if you need many overlapping parts that do not affect easy other. For that we have the Snapdown function, which rasterizes the layers into normal raster image. There're still a lot of software engineering to be done to make this more streamlined.  I've chosen to make Expresii more advanced in that it's a hybrid-raster-vector representation so that you can zoom in a lot more than normal paint apps without pixelation. It's much more complex than normal raster paint program so I hope you guys would understand it takes much longer than what other apps to develop.
Anyway, I do appreciate your feedback and will continue to improve the app. Thanks for your understanding and support.
---
Permissions in this forum:
You
can
reply to topics in this forum